NEW DELHI: The registration process for nursery admission in private schools will finally begin on Thursday. On Wednesday, the schools released details of the process and the admission criteria. Like every year, living in the vicinity of the school will fetch you high points for your child's admission. Due to Covid-19 this year, all schools have their admission process completely online.
According to the schedule released by the Directorate of Education (DoE), the application process will end on March 4. This is for admissions to entry-level classes—nursery, KG, and I.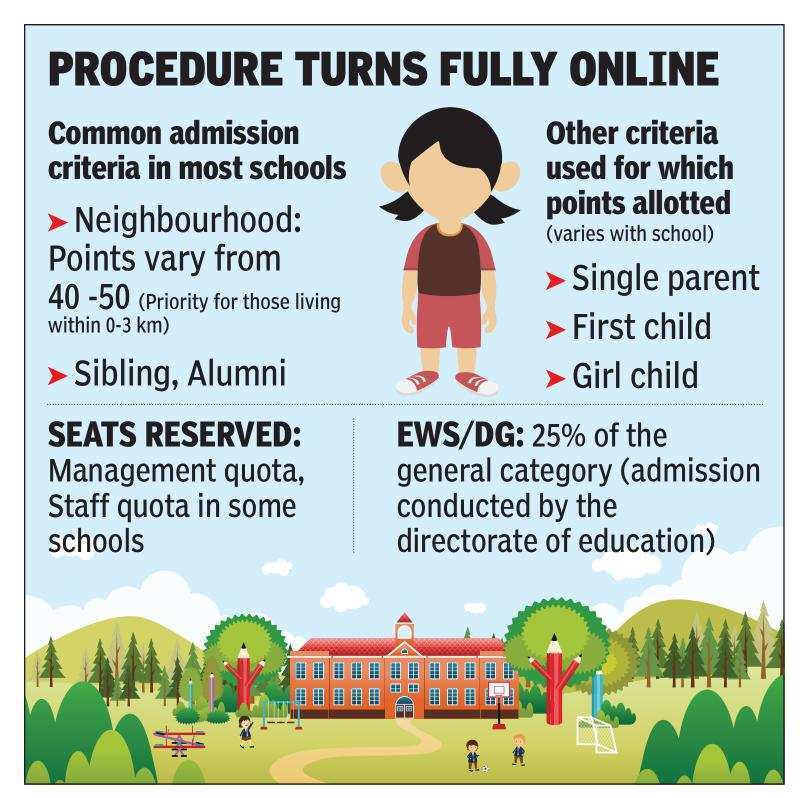 For the admissions, most schools have allotted maximum points to the neighbourhood criterion— highest for those living within 0-3km. The other common criteria used by schools are "alumni" and "sibling". The alumni criterion would benefit a child if his/her parents would have studied in the same school.
Some schools have also allotted points for first child, single parent, and even girl child.

At Ahlcon School, a parent who is divorced or has lost his/her spouse gets an additional 10 points. A child of the school's staff will also get an additional 10 points.
The Indian School and The Mother's International School, among others, will have a staff quota. "If this category seats remain unutilised, they will be filled through open category," said The Mother's International School authorities.
The admissions now being conducted are for the 75% seats. The rest 25% seats are reserved for the Economically Weaker Section/Disadvantaged (EWS/DG) category students. The schedule for admissions under this category is yet to be declared. The 75% seats also include the management quota seats.
Most of the schools told TOI they were conducting only online admissions. "This year, we have made the process completely online so that there is no crowding at the school," said Tania Joshi, principal of The Indian School.

Even the registration form can be sent online, along with the original birth certificate and proof of residence. For the proof of residence, Delhi Public School, Dwarka has said, "the school also reserves the right to visit home."
Tagore International School, East of Kailash wants parents to submit two photographs of the child and the parent. This is being done "to ensure transparency and fairness and also to stop submission of misleading and false information, which may be furnished by applicants," the school stated.
Meanwhile, schools said the fees part was yet to finalised.
The first list will be released on March 20.