HYDERABAD: Choosing between offline or online end semester exams has become difficult for parents, with each having its own set of requirements.
While schools are asking parents to ensure uninterrupted power, internet, and cameras to make sure that children are not cheating in online exams; offline students are being asked to come in full gear including head cover, shoe cover, face shield, gloves, and masks.
"Initially, I was inclined towards opting for online examinations for my son. However, after seeing the guidelines, we decided to take the risk by sending him to school for examinations," said Ram M, parent of class 8 student. He said that the school asked them to arrange two cameras, place a mirror behind the child in such a way that his answer paper is visible, and have a parent sitting beside the child, visible in camera, for the entire exam duration (two hours).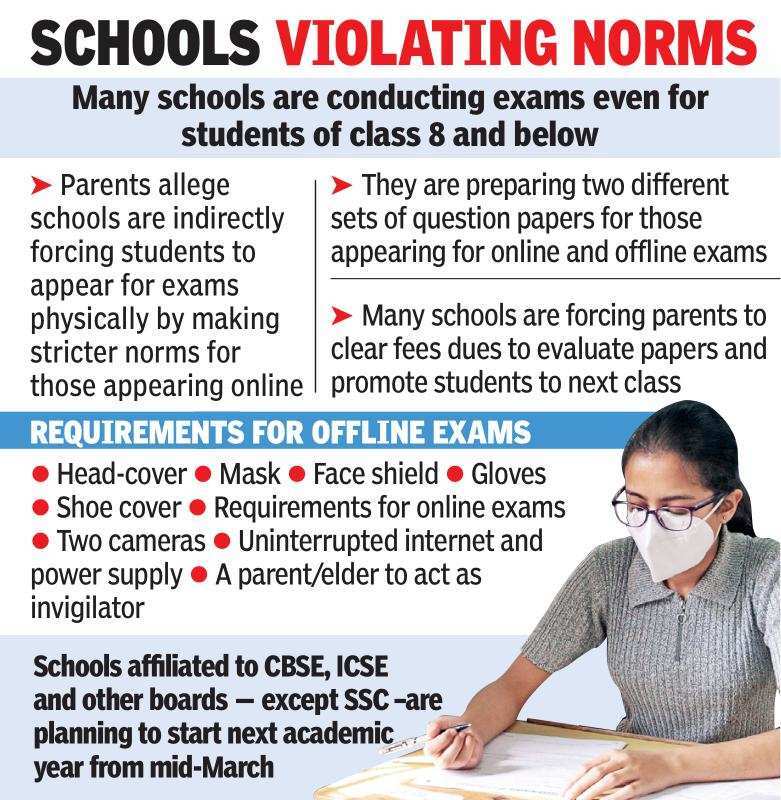 "We were told that exam will be nullified if the child goes offline in case of a power cut or problem with internet connectivity," he added and said that they did not want to take any risk by appearing for exams online.
As per the Right to Education Act (RTE) and state government guidelines, exams should be conducted only for students of classes 9 and above. However, many schools are conducting exams even for younger kids, especially for students of class 8.
When TOI contacted parent associations, they said that about 80% of students are appearing for the exams physically and only 20% are taking exams in the online mode. "The school is preparing two question papers — one hard, one easy. It is giving the hard question paper to those appearing for exams online. Students are comparing question papers and are feeling bad for not taking the exam in offline mode," said Vipin Kumar, whose daughter is appearing for exams in online mode. He said the school is indirectly forcing students to appear for exams physically by making everything difficult for those appearing online.
Meanwhile, parents of those appearing in offline mode said their kids are unable to give their best in the exams while wearing full gear. They questioned the need for a head or shoe cover and added masks and sanitizers were enough.