Apple has introduced its own M1 chip to run MacBooks and the new Mac Mini. While the new chip boasts better performance, battery life and thermal efficiency, it would be a good idea to wait for a while before rushing to buy a new MacBook Air or Pro with M1 chip. This is because you can only experience the claimed performance if you are able to get new macOS apps that are compatible with Apple's new chip. For example, even Google is releasing a new Chrome browser for Apple devices with M1 chip.
Microsoft, Adobe and other big software players will release M1 chip compatible macOS apps but it is too early to comment about the actual performance of these apps. So, before you get all excited, understand that it would take some time for Apple and other developers to join hands together to unleash the true potential of M1 chips.
There's another issue at hand. MacBook Air, MacBook Pro, and Mac Mini with M1 chip are facing Bluetooth connectivity issues. Users are reportedly having troubles connecting their Bluetooth devices to the new Mac. While using third-party Bluetooth devices may be a trouble at this point of time, even Apple's own Bluetooth mouse, keyboard and AirPods are sometimes facing connectivity issues. Apple is yet to acknowledge this.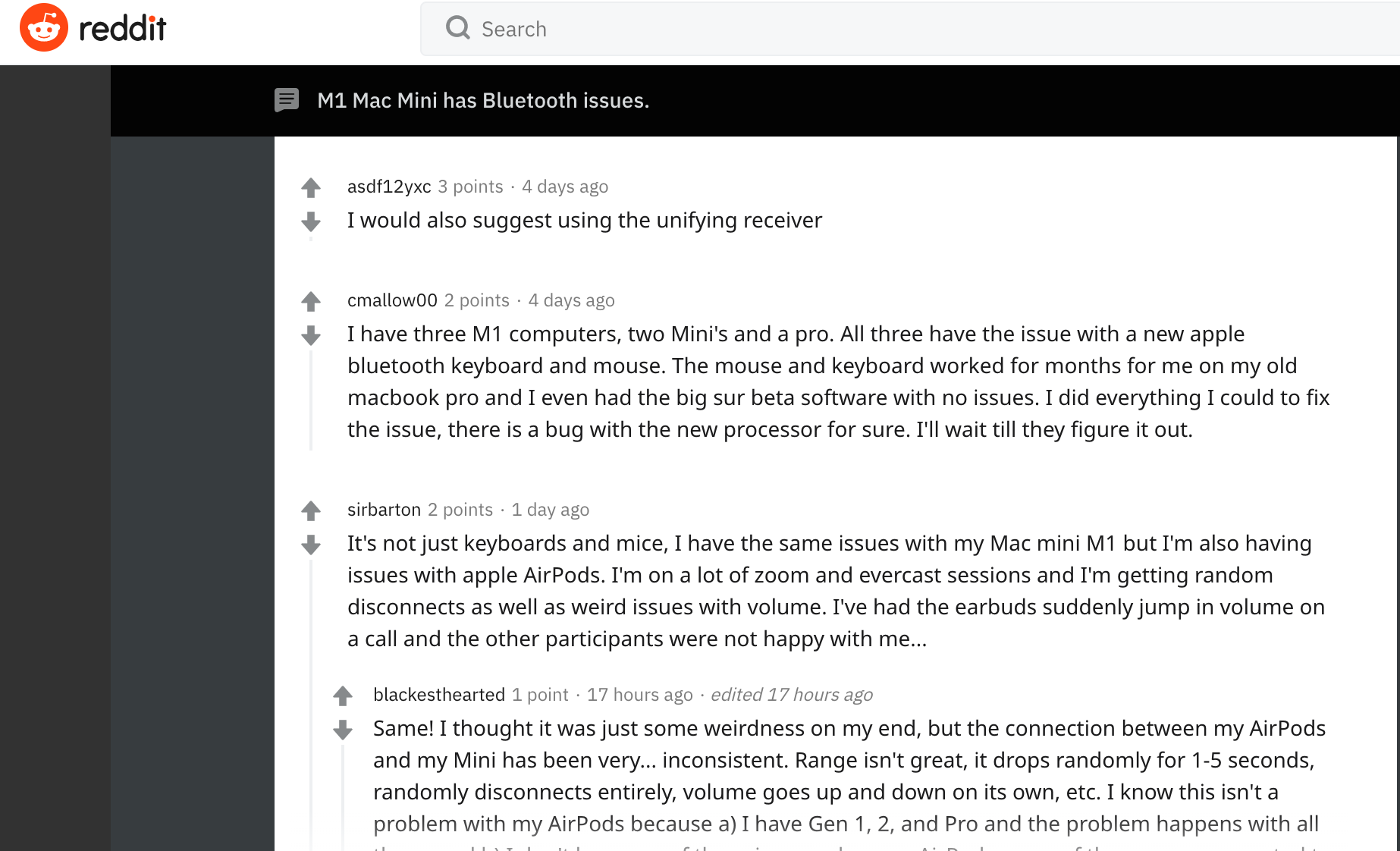 Users took to Reddit to highlight Bluetooth issues with Mac Mini. A user said, "I have three M1 computers, two Mini's and a pro. All three have the issue with a new apple bluetooth keyboard and mouse. The mouse and keyboard worked for months for me on my old macbook pro and I even had the big sur beta software with no issues. I did everything I could to fix the issue, there is a bug with the new processor for sure. I'll wait till they figure it out."
It is quite tempting to buy the latest Apple Macs with M1 chip. Having said that if you think your work will be affected by Bluetooth connectivity issues or if there's any app you use that is not yet optimised for Apple's M1 chip then it may be a good idea to wait before dumping your Mac with Intel inside.