KOLKATA: The date of physical reopening of school, college and university campuses in
Bengal
remains undecided, but the state education department reduced the Madhyamik and Higher Secondary syllabi by 30%-35%.
While universities and colleges in Bengal are not likely to reopen their campuses on December 1, as was thought earlier, education minister Partha Chatterjee on Wednesday did not say anything about resuming classes at schools any time soon either. All that he said was that a committee, along with the education secretary and the commissioner of schools, was looking into preparations before reopening school campuses. "All kinds of safety measures and precautions to protect the health of students will be taken as and when classes resume," he said. Madhyamik is usually held in February and HS starts from mid-March, but Chatterjee did not announce any date for state Class X and XII board exams next year. But he said the government, as recommended by an expert committee, reduced secondary and higher secondary curriculum by 30%-35%.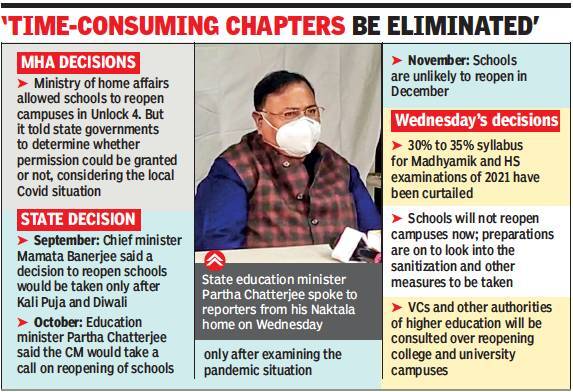 About higher education, the minister told reporters from his Naktala home that the government would meet vice-chancellors of state-run universities and other authorities to evaluate the feasibility of holding in-person classes from December. The views from the meeting will be placed before the chief minister, who will take a final call. The date for the VC meeting is likely to be announced soon as a decision has to be taken on the teaching format for the new undergraduate session, which is scheduled to start on December 1.
CBSE and CISCE have already curtailed Class X and XII syllabi for the 2021 exams. TOI on July 5 had reported that syllabi of all boards and councils would be reduced by 35%-50% for next year. While Madhyamik Parshad on Wednesday evening uploaded subject-wise reduced coursework on its website, HS Council also intimated that questions for 2021 HS exams would exclude those topics on which questions were already set in 2020 board exams. "There will be no reduction in the syllabus of subjects in which the total allotted marks in the theory paper is less than or equal to 60," read the notice. Sources said that the expert committee, headed by educationist Aveek Mazumdar, suggested that conceptual and class-specific topics be retained and repetitive and time-consuming chapters be eliminated. Before reducing the syllabus, the expert committee had considered how the learning outcome in each subject was to be supplemented in the next years.
"Majority of children studying in state board schools live in the distant corners of Bengal where internet connection is either weak or the access is limited. . We are approaching the end of 2020 and yet, students at many schools have not been able to receive study materials yet. The state is likely to allow all non-board students to be promoted this year. The expert committee will hold discussions with stakeholders and decide on the format of exams," said the official. Among the ways that are being explored to make up for the loss is to add an hour to school timings or holding classes on Saturdays, as and when campuses reopen. The state government tried to reach out to students by providing scheduled teaching hours on television, uploading study materials on state-run website and arranging for subject experts to speak with students over phones apart from individual schools holding online classes, the official added.