NEW DELHI: Delhi University has extended its registration process twice this admission season. According to the latest circular issued by the varsity in this regard, the registration process has been extended till July 31 to accommodate candidates from states where Class XII board exam results are not yet out.
Till Sunday, Delhi University had received the highest number of applications (1,27,714) for its UG courses from the national capital. The second highest number of registrations came from Uttar Pradesh, shows data shared by the varsity. Most of the applicants this year are from north Indian states, such as Haryana, Rajasthan, Jharkhand, Uttarakhand and Madhya Pradesh.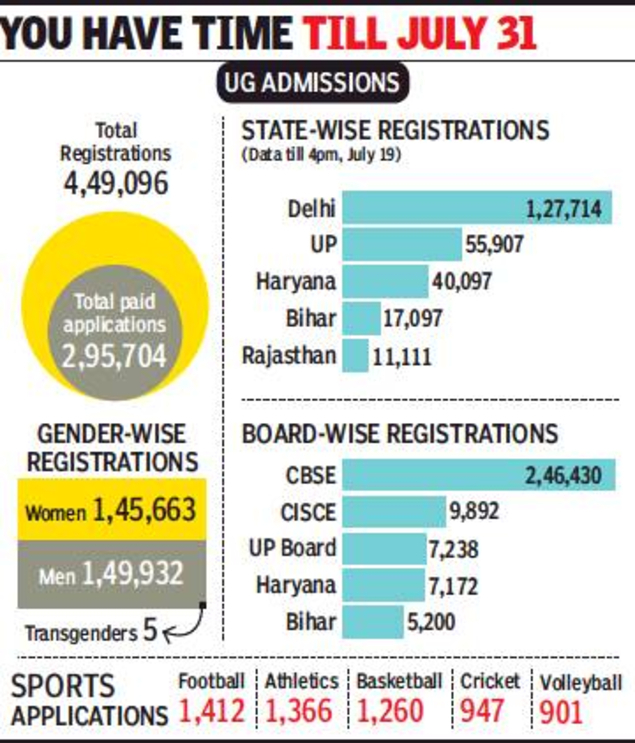 Kerala is the only south Indian state in the top ten of the registration list. It is placed at the tenth position with 3,672 registrations.
Gurpreet Singh Tuteja, former deputy dean (student welfare), however, claimed that "it may look that the number of applications from outside Delhi has reduced, but by the time the second extension ends on July 31, it may rise up manifold."
"The available data does not give a clear picture as many candidates might have filled multiple forms," Tuteja added.
This was evident from UG registration numbers too. Till 6pm on Sunday, the number of such registrations was 4,49,096, while the total paid applications were only 2,95,704.
A member of the DU's admission branch said that many candidates might have filled multiple forms to correct mistakes made by them while entering details.
Tuteja believes that "if DU allows for ECA admissions, then the registration numbers will rise up further."
The DU's data, meanwhile, suggests that maximum 2,46,430 applicants are from CBSE, followed by a distant 9,892 from CISCE. The UP and Haryana boards follow with 7,238 and 7,172 applications, respectively.
The registration process was earlier supposed to be over by July 18.